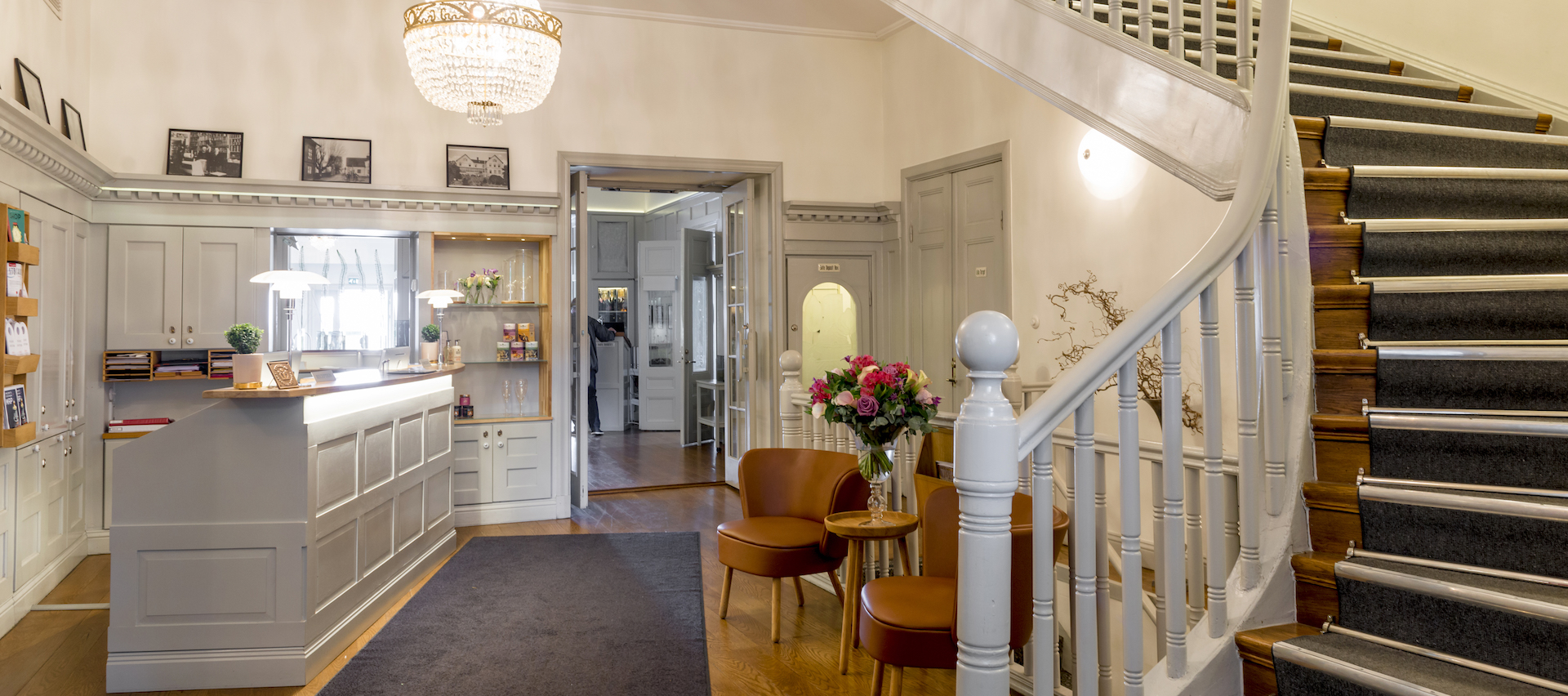 Weekend Deal!
Experience Sigtuna – Sweden's oldest town – and treat yourself with staying five star Sigtuna Stadshotell.
Dating back to 1909, the hotel with a magical view of Lake Mälaren's inlet is a well-cut diamond that invites you to luxurious accommodation, top quality food and fantastic service.
The rooms – 27 in number – are carefully decorated in Scandinavian style from the 1930s to the 1950s. The restaurant 1909 with chef Gustav Brixelius is part of the White Guide and the food is wonderfully created with ingredients from local growers and producers.
At Sigtuna Stadshotell, everyone can enjoy a luxurious and relaxing weekend – alone or with someone you like.
Check in and take the opportunity to take a walk on Sigtuna's cozy promenade.
Once back at the hotel you ca buy a a glass of Champagne or a classic afternoon tea in the hotel lounge before it's time to enjoy a three course menu of the best that the season has to offer – all with the fantastic view of Lake Mälaren as an appetizer.
Enjoy food, environment and peace and quiet – welcome to Sigtuna Stadshotell!
Five star accommodation, breakfast, three course dinner from 1295 SEK/person.
Welcome to the pearl of Mälaren!
More happenings
Summer at Sigtuna Stadshotell

Our summer hotel with our lovely indoor and outdoor dining rooms and bar is open all summer, Thursday afternoon to Sunday breakfast, a warm welcome!


Summer luxury deal!

Enjoy the summer in beautiful Sigtuna and at Sweden's smallest five star hotel, 1909 Sigtuna Stadshotell.
Read more...

Five stars for the 20th time!

We are so incredibly proud to be able to tell that this year, for the 20th time, we have passed the certification and can be called Sweden's smallest five star hotel
Read more...

Afternoon Tea

Our Afternoon Tea has taken a summer break and is back again week 34. Every Saturday at 12 noon, 2 and 4 pm.
Read more...

Swedish husmanskost

Husmanskost signify traditional Swedish dishes often with local ingredients. The classical everyday Swedish cuisine especially for lunch.
Read more...

Summer Lunch

Enjoy a summer lunch in our restaurant - our lunch menu for the summer is served on Fridays & Saturdays, 12 noon - 3pm, week 26-33.
Read more...

After Work

Time for After Work! We welcome you every Friday from 4 to 7 pm.
Read more...

Play golf in Sigtuna

Here you will find all the opportunities for a wonderful golf experience. Nice golf courses, culture, history and relaxation and not to forget amazing food and drink.
Read more...

Magazine Di Weekend

Proud and surprised when we opened the magazine Di Weekend!
Read more...

Travelers' Choice

We are extremely proud that we even 2022 received the Travelers' Choice award!
Read more...

Gift Card

Are you looking for a gift, or not sure what you want wish for yourself? It can always be nice with a gift card.
Read more...