Nominations

Travelers' Choice 2022
Receiving an award is always a welcome honor and this year it feels extra special and warming.
We are extremely proud to have received the Travelers' Choice award in 2022.
Travelers' Choice is the finest prize Tripadvisor can award as the award is based on visitor reviews. We are extremely grateful and proud to receive this fantastic rating from our guests!

Scandinavian Service and Quality Award
Scandinavian Service and Quality Award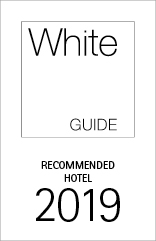 White Guide 2019
We are also very proud that the ninth year is included in the prestigious White Guide 2019.
White Guide restaurants
White Guide Hotel + Bar 2019
We are extremely proud that 1909 Sigtuna Stadshotell is also represented on White Guide's new list "White guide Hotel + Bar"
Sweden's best hotels in 2019 with the EXCEPTIONAL LEVEL 2019 award
White Guide 2018